Catalog Printing
Printing on glossy art paper 80gsm, 100gsm, 130gsm, 150gsm, 200gsm, 250gsm, 300gsm, showing good color effect.
Saddle stitch binding, it is recommended that within the spine less than 3 mm (80gsm paper, about 80 pages). The spine exceeds 3 mm, we recommend perfect binding on catalog. We also offer wire binding, comb binding strips stapled, ring binding, hardcover bookbinding.
Catalog size A4 (210×297mm), A5 (148×210mm), B5 (176×250mm) or customized.
Full color printing on both side (CMYK printing).
Any inquiries about catalog printing process, cost and technical consultation, such as shape style, paper, color, size, lamination, UV, hot stamping, binding, embossing, etc., please feel free contact us, we will give you a satisfactory answer.
Price Calculator


(for Catalog Printing)
Additional cost for cover gloss/matt lamination:
| 500 | 1000 | 2000 | 3000 | 4000 | 5000 | 10000 | 20000 |
| --- | --- | --- | --- | --- | --- | --- | --- |
| $47 | $58 | $92 | $135 | $170 | $209 | $395 | $791 |
Additional cost for outside cover spot UV varnishing (30% coverage):
| 500 | 1000 | 2000 | 3000 | 4000 | 5000 | 10000 | 20000 |
| --- | --- | --- | --- | --- | --- | --- | --- |
| $92 | $127 | $186 | $233 | $279 | $326 | $586 | $814 |

Comb Binding


Hardcover


Perfect Binding


Plastic Strips


Ring Binding


Saddle Stitching


Wire Comb (double lines)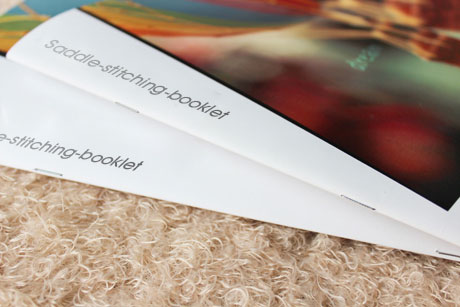 Fold the impression (cut or uncut) into several folds according to page number and sequence. The fold with multi-pages is called a signature of book-block. After collocating the folded signatures into volumes by order and combine them, it is called saddle stitching.

Impression→folding→collating→wrappering→saddle stitching→cutting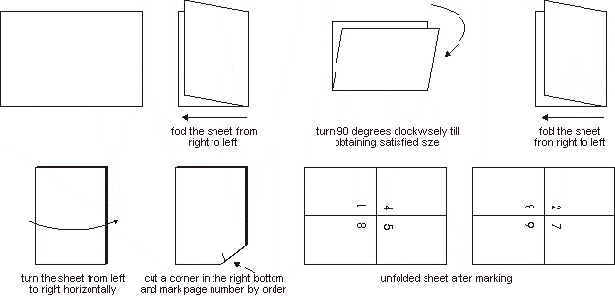 Saddle stitching is when a project with a page count divisible by 4 is laid flat on the saddle. Staples are usually placed inside the spine (the crease in this case), also known as the gutter, to hold the pages together. Often times a saddle stitched booklet only requires 2 staples. This technique is not to be confused with side stitching or side staple where the staples are placed a ¼" from the spine on the front of the piece as opposed to inside the spine, which prevents the project from opening flat as it would with saddle stitching. Saddle Stitching is best used with smaller page counts because as the page count goes up so does the amount of creeping which can occur.

Creeping is when the inside pages "creep" out beyond the outside pages. This can be fixed by trimming the inner pages. However, this can result in ruined margins or cut off text. Trimming can be accounted for by the designer making the inside pages slightly smaller to accommodate the trimming, but this can be incredibly time consuming (and costly). The best way to avoid creeping is to leave saddle stitching to smaller projects such as low page count magazines, calendars, zines, comic books or small pamphlets.
Perfect Binding Process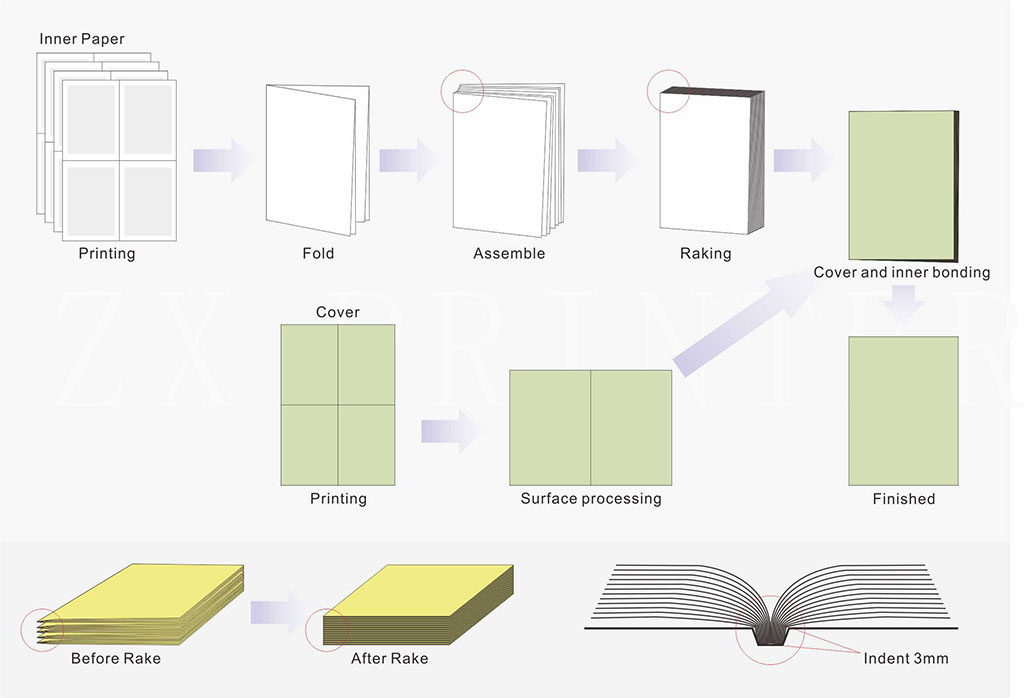 Sewn Binding Process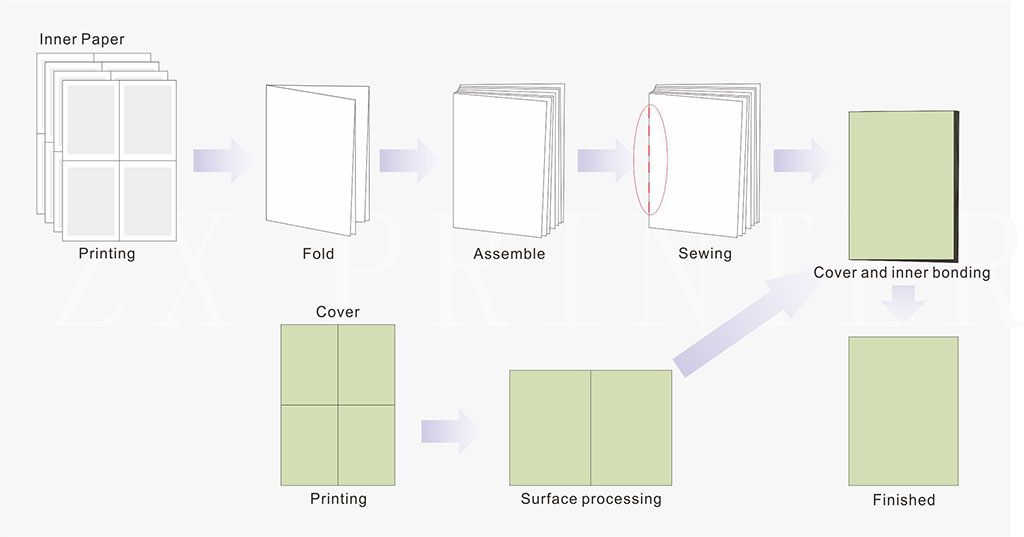 Perfect binding is often used, and gives a result similar to paperback books. National Geographic is one example of this type. Paperback or soft cover books are also normally bound using perfect binding. They usually consist of various sections with a cover made from heavier paper, glued together at the spine with a strong glue. The sections are milled in the back and notches are applied into the spine to allow hot glue to penetrate into the spine of the book. The other three sides are then face trimmed. This is what allows the magazine or paperback book to be opened. Mass market paperbacks (pulp paperbacks) are small (16mo size), cheaply made with each sheet fully cut and glued at the spine; these are likely to fall apart or lose sheets after much handling or several years. Trade paperbacks are more sturdily made, with traditional gatherings or sections of bifolios, usually larger, and more expensive. The difference between the two can usually easily be seen by looking for the sections in the top or bottom sides of the book.
The video shows why the press can print rich colors in CMYK 4 colors. By stacking the four colors of transparencies step by step, the complete color image seen is formed.
We are a full service CMYK catalog printing company that can help you launch your business. Consider some of our advantages:
Low Cost: We offer some of the most competitive prices in the industry, you can get 50% off for you order.
Fast Turnaround: We provide a variety of shipping method that suits your business needs through our network of worldwide logistic partners. Request a free sample and we offer the latest technology with many of the finest skilled professionals in the industry.
Instant quotes for almost any size using our online price calculator. Why wait for a quote when zxprinter.com can give it to you instantly. Not just for standard sizes but for almost any size. Check it out. You will be amazed.
Once we receive your order you will send us your digital print files. Our expert prepress technicians will review your file and let you know if your files have any technical issues that need to be addressed. For example, resolution or bleed requirements. Once we are satisfied with your files we will send you a digital proof via email. This is included in our price. If you would like a hard proof we are happy to provide this service. There is an extra charge for a hard proof.
Free file review This is a must if you're not quite sure how to assemble your files for printing. Send us some sample pages and we will give you our expert opinion on your files. The biggest delay in any print job is problematic files. We will help you with your file preparation before you place your order with us. Clean files mean your magazine or catalog will fly through the production process. Please take advantage of this valuable service.